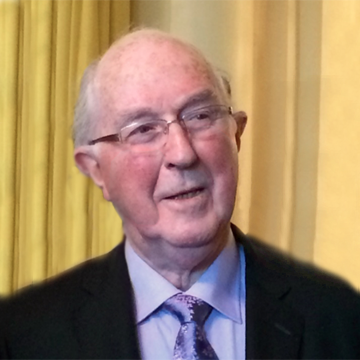 Brendan Halligan, President
Brendan Halligan is known as a man of politics, an economist and is founder and President of the Ireland China Institute and President of the Institute of International and European Affairs (IIEA).  Brendan Halligan trained and graduated with a Masters Degree in Economics from University College Dublin in 1964.  He worked in the public sector before entering politics in 1967, when he became General-Secretary of the Irish Labour Party.
Appointed to the Seanad (Irish Senate) in 1973, three years later he was elected a Teachta Dála (Irish Member of Parliament). He continued in his role as the General-Secretary of the Labour Party until 1980, when he became a lecturer in Economics and later set up his own consultancy firm, Consultants in Public Affairs (CIPA). He was appointed as a Member of the European Parliament (MEP) from 1983 until 1984, where he specialised in economic affairs and energy policy. Retaining his interest in the national management of energy, Brendan served as Chairman of Bórd na Móna (the Irish Peat Development Authority) from 1985 to 1995 and as Chairman of the Sustainable Energy Authority of Ireland for seven years.  He is currently a Director of the company Mainstream Renewable Power, which specialises in wind and solar energy.
Brendan Halligan is a keen scholar and speaker of the Irish language, he was an Adjunct Professor in European Integration at the University of Limerick, and holds an honorary Doctorate of Letters from University College Dublin.