Ireland willing to deepen friendly ties with China: Irish deputy PM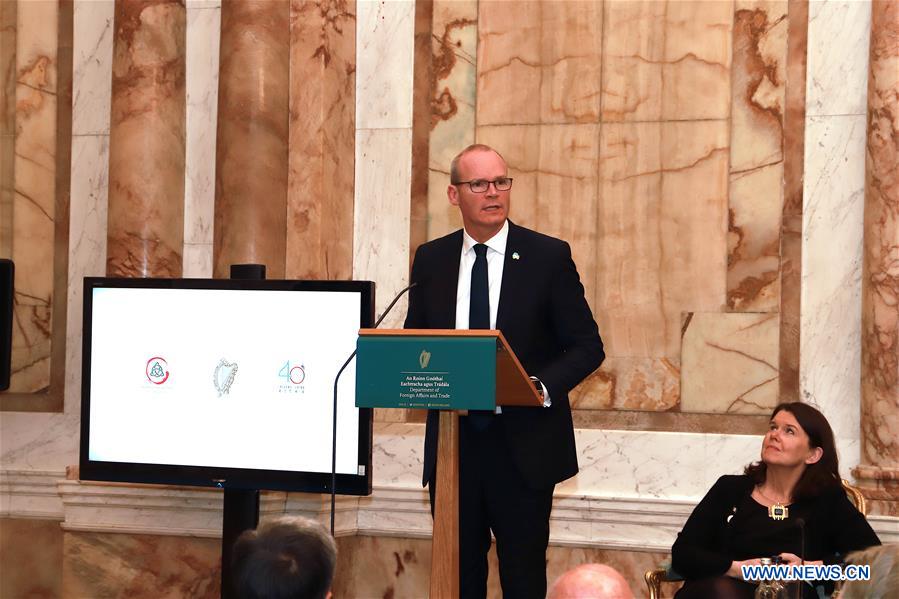 DUBLIN, Oct. 23 (Xinhua) — Ireland is willing to deepen and broaden the friendly ties with China in the next 40 years, said Irish Deputy Prime Minister Simon Coveney while addressing a forum held here on Tuesday night to mark the 40th anniversary of the diplomatic relations between the two countries.
Looking back at 40 years of diplomatic relations between Ireland and China, Coveney, who also acts as the Irish minister for foreign affairs and trade, described the bilateral ties between the two countries as "warm and friendly", which have witnessed a rapid development in various fronts including trade, political relations and people-to-people exchanges.
"There is much more that Ireland and China can do to support the rules-based international order," he told the delegates attending the forum entitled "Ireland and China — Looking Towards The Next 40 Years", which was organized by Ireland China Institute in partnership with the Irish Department of Foreign Affairs and Trade.
Ireland China Institute is a Dublin-based Irish think tank which is dedicated to promoting greater knowledge, cooperation and understanding between Ireland and China.
Addressing the forum convened at the splendid ballroom inside the office building of the foreign ministry, Coveney said that both Ireland and China support the multilateral trading system with the WTO at its core, and the principles of the UN Charter as both countries have benefitted greatly from this system.
"Our desire now is to deepen and broaden our relations with China in the next 40 years," he said, adding that Ireland will engage with China in a holistic way.
"I am confident that our relationship is sufficiently strong that we can do this in a constructive and respectful manner," he said.
An estimated 100 people mainly from the political, business and academic circles of both sides attended the forum.
Former Irish prime minister Enda Kenny, Secretary General of Ireland's Department of Foreign Affairs and Trade Niall Burgess, Lord Mayor of Dublin Paul McAuliffe, Chairman of Ireland China Institute Ken Duggan and Chinese Ambassador to Ireland He Xiangdong also attended the event.
In his speech, He Xiangdong called on both sides to make joint efforts to promote the hard-won good relations between China and Ireland to a new height for the benefit of the two countries and the two peoples.
He said that China welcomes Ireland to take a more active part in the Belt and Road Initiative so as to deepen cooperation in the fields of trade, investment, science and technology, innovation and agriculture between the two countries.
The forum also held a panel discussion in which Enda Kenny and five other experts with different background talked about the Ireland-China relations and answered the questions from the audience.
Chinese Ambassador to Ireland He Xiangdong delivers a speech at a forum entitled "Ireland and China — Looking Towards The Next 40 Years" in Dublin, Ireland, Oct. 22, 2019. Ireland is willing to deepen and broaden the friendly ties with China in the next 40 years, said Irish Deputy Prime Minister Simon Coveney while addressing a forum held here on Tuesday night to mark the 40th anniversary of the diplomatic relations between the two countries. (Xinhua)