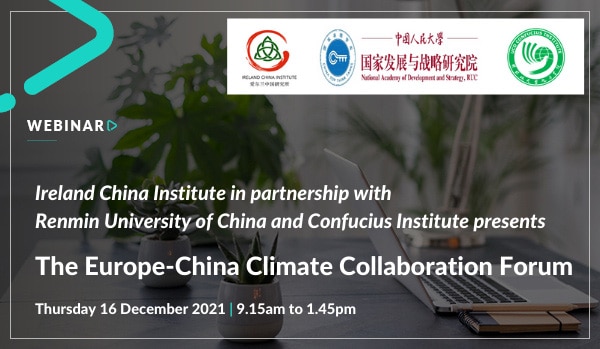 The Ireland China Institute cordially invites you to attend our virtual "The Europe-China Climate Collaboration Forum" on Thursday 16th December from 09:15am until 1.45pm.
In the wake of the COP26 conference, the Ireland China Institute will host, in partnership with Renmin University of China and the Confucius Institute, a highly prestigious half day virtual event to identify how Ireland and China can collaborate to promote ongoing and deepening links between the world's three largest economic blocs – the EU, US and China – to progress and harmonise climate action efforts.
Opened by President of the Ireland China Institute and former Taoiseach Enda Kenny, His Excellency Mr. He Xiangdong Ambassador of the People's Republic of China to Ireland, Her Excellency the Ambassador of Ireland to China Ann Derwin and former President of the EU Parliament Pat Cox and include contributions from Minister Eamon Ryan, Minister of State Sean Fleming, Irish Times Environment and Science Editor Kevin O'Sullivan, Deputy Director of DG-Fisma Alexandra Jour Schroeder, Stephen Nolan MD of the UNDP FC4S and A&L Goodbody and from the Chinese perspective Li Junfeng, Founding Director, National Centre for Climate Change Strategy and International Cooperation, SHI Yan'an, Director of International Office, Renmin University of China, Xu Qinhua, Director International Energy Strategy Research Centre, Renmin University of China, Luo Yu, Deputy Director 'Belt and Road' Research Centre, National Institute of Development and Strategy and Associate Professor School of Finance, Renmin University of China and Wang Ke, Deputy Director 'Belt and Road' Research Centre and Associate Professor School of Environment at the National Academic of Development and Strategy, Renmin University of China.
For those concerned with the vital importance of strengthening East West collaboration on climate action, this event is a significant and timely contribution to public awareness and policy discussion that aims to foster better understanding and dialogue and facilitate deeper cooperation on this most critical of global challenges.
Please click on the below button to register for your webinar link.